Bitrix Site Manager may seem unassuming, but underneath this CMS lays a fantastic algorithm that drives this CMS' performance over almost all other existing CMS applications out there. It's most definitely the most cost effective Content Management system today.
Introduction:
Having worked extensively with open source CMS applications like Joomla, Mambo and Drupal, we've come to realize one universal fact. Microsoft does not like them. Ergo - Internet Explorer does not like them. Which eventually means that a majority of browser users find it difficult to work with user controlled content over the web, if the CMS installed happens to be a Joomla or a Drupal.
So for any online business, what is the true value of dollars spent on a CMS? Is a Free CMS really FREE? Should you 'just go for whatever is available free or 'Buy what makes sense'?
As owners of online businesses turn to using CMS applications for their needs, Bitrix's Revolutionary Site Manager revokes the age old theory that only content based businesses need to invest in a CMS. Now anyone can enhance the efficiency and usability of your website. And it's as simple as a 1, 2 and 3.
Installation, Usability and Navigation:
When we first installed the trial version of the application, my fear was that we'll need a server class machine to be able to run this CMS. After all - this is a Content Management System! It should require some dedicated processing power.
The Tech support at Bitrix told me I could run it on a regular 32/64 bit processor with 256 MB RAM and above. It was very unbelievable until I installed the engine. Not only does it work great on my R51 Thinkpad with 1 GB of RAM, I can continue to use our CRM, MS Outlook and this Word file while the engine is running in the background.
Thanks to a remarkable algorithm that optimizes processing power, the Bitrix Site Manager does not need a dedicated server class machine. Unless of course you are expecting a million hits a day. But then your hosting setup would cater to this.
A very critical aspect to any content management application is its ease of usability and self understanding. I don't want to waste 2 weeks training my content team to work with the application. Many CMS customers underestimate this 'time to deploy'. This is where the Bitrix Site Manager really takes off. The user interface is extremely well laid out and one would need 15 mins to quickly understand where what can be accessed from.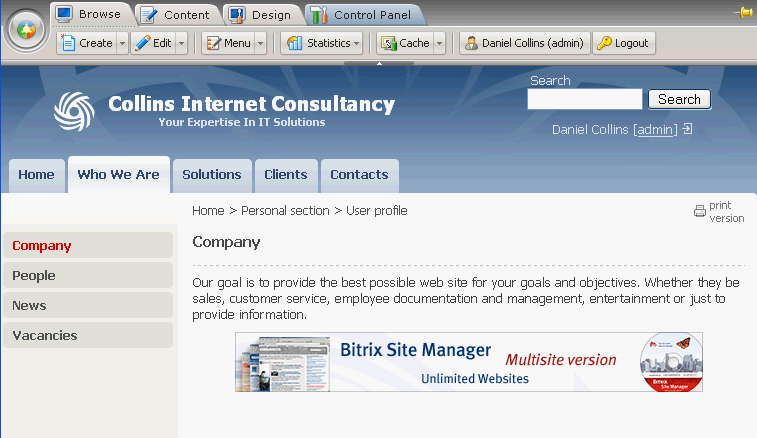 On the left are screenshots of the navigation of the home screen. As you can see, the navigation is pretty much self explanatory and so are the menu items. You can quickly navigate to the appropriate section and add/del/edit content.
The Tier 2 navigation allows you to reach any section of the site within 3 clicks. This fantastic navigation saves time and gives the user a very 'controlled' environment.
Features and Functionalities:
Some of the best CMS applications charge a bomb when it comes to integrating advanced user functionalities and features. Bitrix Site Manager has more than what you need - all bundled together in the same installer. So you don't pay extra for any feature - it's all there. All features are neatly laid out according to sections for easier navigation and searching.
One of the best features we liked about the site manager was the one click integration of an E-Store. So now anyone can easily sell merchandise, books, music, etc online without much hassle. I can even sell digital content.  Users can rate content so automatically the most popular items turn up on searches. The media player supports multiple different video formats like Flash and Microsoft videos and allows download as well.
Another feature we really enjoyed was the ability to integrate multiple communication media with the site manager. All media like Forums, Blogs, E-learning, Polls, etc can be installed and integrated with a single click. Blogs support RSS 2.0 and Atom 0.3.
Every content item can be individually edited, approved and published. A hierarchy of editors and publishers can be created to ensure the content is proof read and accurate at all times. The photo gallery allows bulk uploading and an access control to limit usage and download. The search engine is awesome and gives any user an almost instant access to searched content based on popularity.
Conclusion
If you are looking for a highly cost effective Content management system that doesn't cost you a bomb to setup dedicated infrastructure, the Bitrix Site Manager is the perfect solution for you. Within 2 days your content team will be up and running with the new application and your webmaster will be able to seamlessly integrate all data straight into the new application.
Installation - * * * *
Usability - * * * * *
Navigation - * * * * *
Features - * * * *
Value for Money - * * * * *
About Author
Daniel Collins has over 8 years experience as a web developer and internet consultant. He started his career in Canada as a self-employed web developer before taking on a role at an internet consultancy firm. In 2005 he moved to Boston, US where he is now working as an internet consultant. Dan has a good platform of knowledge and understanding in web development and e-business, including content management and IT solutions.